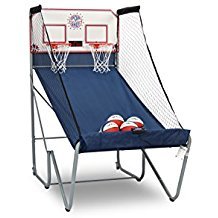 1 on 1 Electronic Score Basketball
Featuring 10 different games and six audio options, this score keeping basketball game provides interactive game play for hours.
The scoring system is nearly 100% accurate with a large, three-digit scoreboard and audio jack to power external speakers to enhance game play.
The height of the game can be configured for multiple settings and different-sized ceilings.